Spring means nature's rebirth. Plants turn green and flowers begin to blossom again. Here, China.org.cn introduces the top 10 flowers to see in Beijing for your enjoyment.
   Tulip
   Time: Mid- April to Mid-May
               Place: Zhongshan Park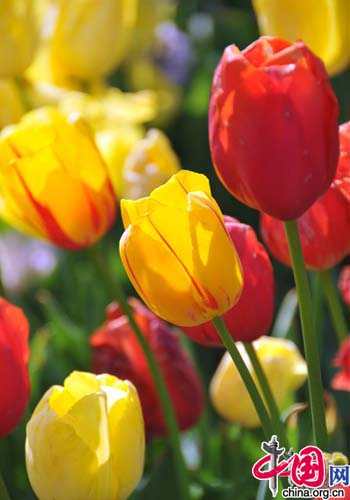 The best place to see tulip in Beijing is Zhongshan Park. [Photo by Xiaoyong/China.org.cn] 
Built in 1421, Zhongshan Park is a former imperial garden from the Ming Dynasty (1368-1644). It is located west of Tian'anmen square in the heart of the inner city and was a site of the former Altar of Land and Harvest, visited biannually by the emperors. After 1911, the site became a park and was renamed in 1928 in honor of Sun Yat-sen, who is considered the father of modern China. The park covers an area of 60 acres and features many traditional Chinese courtyards and halls. Every year, a Tulip Garden Party is held here, presenting billions of colorful tulips.
Travel tips:
Admission: 10 yuan
Getting there: Bus No. 1, 5, 10, 22, 37, 52, 99, 728 to Tian'anmen West Stop.