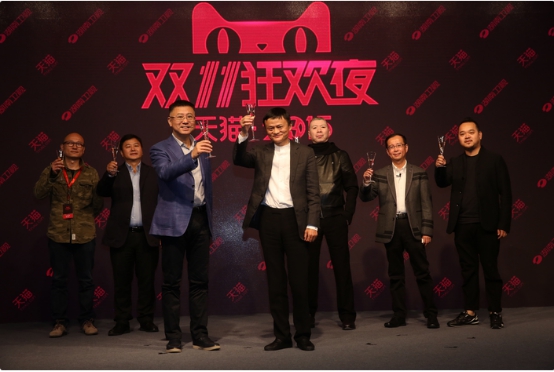 Feng Xiaogang, Jack Ma and crew announce a shopping spree gala for Nov. 11, China's largest online shopping festival day. [Photo/rednet.cn]
Film director Feng Xiaogang will direct a lavish carnival gala to promote China's largest online shopping festival for the upcoming Singles' Day, on Nov. 11 after persuasion from Chinese e-commerce tycoon Jack Ma.
The gala will be held in Beijing's National Aquatics Centre at night on Nov. 10 and will be broadcast via Hunan Satellite TV, as well as being streamed online via China's biggest video site, the Youku Tudou Inc. platform.
Feng initially turned down the offer. However, Jack Ma, chairman of Alibaba Group, told him to catch up with the trend. "'Anyone in your position and social status, could easily ignore, look down upon, not understand or not catch up with the new comers in the film business,' he said." Feng later quoted Ma, saying "'but when a new director earns billions of dollars at the box office, you'll be surprised and wonder why.'" Feng decided he should not be left behind and wanted to be innovative, so he accepted the job.
The festivity has a diverse, star-studded cast, including singers Adam Lambert, Rain, Jane Zhang, Jolin Tsai, Huo Zun, Gao Xiaosong, actress Zhao Wei, teen idols the TFboys, magician Louis Liu, and swimming champion Ning Zetao among others.
Feng promised the gala will be very interactive with the TV audiences, Internet users and mobile users.
"I will make it different from a traditional gala, " he said, "I will make people want to participate in it more, combining the Internet, mobile phone and TV screen platforms together."
"The biggest characteristic in the Internet era is 'crossover,' and now we are going to have a bigger crossover," he added. Feng did have crossovers in recent years, as he directed the 2014 Spring Festival Gala on CCTV, and stepped out to act in rather than direct a critically applauded film "Mr. Six" this year.
Alibaba Chairman Ma also will also take to the stage on that night. But how he will appear is still a secret. "Someone even wrote a song for me to duet with Faye Wong, but the director turned me down."
"Jack Ma will appear in a fashion that all consumers will love," Feng said.
The 11.11 Shopping Festival ("Double 11") began in 2009, with 27 merchant participants, as an event for Alibaba Group's Tmall.com merchants and consumers to raise awareness of the value in online shopping. Since then, millions of consumers have flooded to websites for the bargain shopping spree every year. Alibaba's rivals, like JD.com, also have similar online shopping festivals on the same day.
Alibaba Group alone announced a stunning US$9.3 billion gross merchandise volume which was settled through Alipay on Alibaba's China and international retail marketplaces on Nov. 11 last year.