Anti-forced-marriage ad. posted at subway station
An anti-forced marriage advertisement has been posted at the subway station of Dongzhimen in Beijing.
A taste of the Spring Festival for foreigners
Foreign friends in Beijing got a chance to experience Chinese traditional Spring Festival culture on Wednesday.
She gives Chinese lacquer art a French touch
Gwenaelle Chassin de Kergommeaux, a French designer and artist, wanted to create something for China, where she has lived since 2007.
Families of expats can stay longer
Foreign family members of Chinese citizens will be eligible for a two-year residency permit in Beijing based on a family visit visa, according to the Beijing Municipal Public Security Bureau.
Top five volunteer groups in Beijing make debut
They are volunteers who report clues to police and the top source of police's neighborhood intelligence.
Ice sports popular in Beijing
More citizens are engaging in ice sports this winter.
Beijing grants special award to late policeman
Gao Baolai, a policeman from a community in Beijing's Haidian District, was granted a posthumous award for his services at the "2015 Beijing Role Models" awards ceremony.
Entrepreneurial girl in Xidan gets thumbs up from Pan Shiyi
The brand manager of Poaipai introduced the brand culture and design concept of the toothpaste products to Pan Shiyi, and revealed that the oral care brand and its products were created by Ren Yueli, a young woman who changed her profession and started the business.
'Butcher' alumni talks about entrepreneurial experiences
Having graduated from Peking University, Chen Sheng and Lu Buxuan chose to be butchers, which once made them prominent figures in the news. Fortunately, they have done their job to the extreme.
Mother-and-baby rooms to be set in subway stations
Mother-and baby rooms will be set in the newly built subway stations which have large traffic volumes.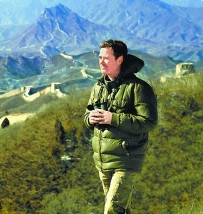 Terry Townshend, a British birdwatcher in Beijing
Englishman Terry Townshend has recorded more than 480 species of birds in Beijing over the past five years.
Beijing girl sells 200 Chinese pancakes everyday in New York
A college student selling Chinese pancake in New York has become Internet hit recently.
Chinese philanthropist gains int'l recognition
A Chinese philanthropist joins hand with overseas charity foundations in boosting public good.
Taruike, China's first mixed blood basketball international
On Monday, Taruike became the first mixed blood player ever playing for a national level basketball team.
British Menu Week kicks off in Beijing
Fish and chips have been under the spotlight since President Xi Jinping's visit to the Chequers pub in Oxfordshire on October 22, invited by British Prime Minister David Cameron. But the UK wants people in China to know that there's much more on the British menu.