My dream and life in China
I'm a professional musician. My dream of performing on stages with so many different kinds of people has been realized in Beijing.
They used to say, 'Go to China, you'll be a star!'
I have released two album projects since being in China, making my career releases (to date) total 11 audio and 2 video productions.
Crossing bridges
As I watched my usually confident and smiling child inching away from the door in tears, I realized that I was stuck on the"bridge"spanning the gap that exists between knowledge and its application in the real world.
The wearable tightness of styling
The Chinese man at present does not yet have an innate desire to develop a style of his own. Principle M aims to serve and style.
Spring Festival, a time to reflect
When the year's biggest festivities such as China's Spring Festival set in, I find myself drawn into a period of contemplation regarding my identity.
Foreigners feasting on festive delights
Spring Festival, or Chunjie, is upon us once again. As we head into the country's most important holiday, one that revolves around all-important family reunions, how do these "half-Chinese" regard the festivities?
Timeless tunes
Cecilia Lindqvist studied guqin, a Chinese zither, under some of the best masters of the instrument in Beijing in the early 1960s.
A bite of Beijing culture
Beijing Monthly and the Beijing International Culture Association on January 26 hosted the "Experience Beijing - Temple Festival during Chinese New Year" event at Laoshe Teahouse.
Cultures collide in Yishu8 art center
Yishu8 art center, located on the site of former Sino-French University, creates a bridge that unites nations.
Danish minister tours Beijing on her bicycle
Danish Transport Minister Pia Olsen Dyhr began her three-day visit to China in Monday's morning rush hour by riding a red bicycle from the hotel she stayed in to the Danish embassy in Beijing.
Hungry eyes
Launching an eyewear brand in a nation that is still "nascent" in terms of trends cannot be easy. Danish Fleye's Jacob Thomsen tells us his story. And that of Fleye.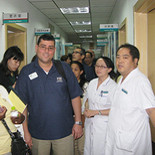 Foreign patients treated like natives, all the way to the bill
Community health service centers play a vital role for Chinese patients but they also provide services to expatriates.
Experiencing Chinese imperial cuisine culture
More than 150 expats from embassies, chambers of commerce, and international organization offices in Beijing participate in the "Experiencing Chinese imperial cuisine culture" activity at the Chinese Royal Gastronomy Museum on December 2, 2013.
It all started with fish
A large part of Irina Zakharova's life is associated with toys, children and art.
Beijing through the expat lens
Expats shared the stories behind their photos at the award ceremony of the "2013 Beautiful Beijing in the Eyes of Foreign Friends Photo Contest" on Thursday.