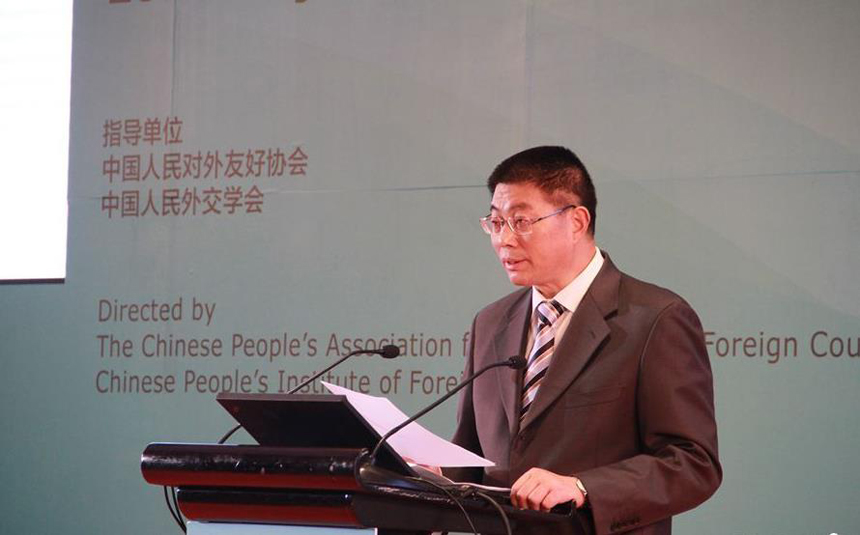 Dai Junliang, Standing Member of the CPC Beijing Municipal Committee, addresses the opening ceremony of the 2015 Beijing International Forum on People-to-People Friendship on Thursday, Nov. 12 in the Chinese capital. [Guo Yongguo / China.org.cn]
The 2015 Beijing International Forum on People-to-People Friendship opened on Nov. 12 with a theme of "promoting friendly civil exchanges and discussing harmonious urban development".
Hosted jointly by the Beijing People's Association for Friendship with Foreign Countries (BPAFFC), Beijing Association for Science and Technology and the People's Government of Xicheng District of Beijing Municipality, it attracted nearly 300 representatives from international friendship organizations and China's sister cities in 20 countries, as well as government offices and NGOs.
They came together to discuss urban development, traditional cultural exchange, international education, senior service industry cooperation and development as well as the prospects for expanded youth exchanges.
Representatives from countries such as the United States, Brazil, France, Hungary, Pakistan and Cambodia agreed with Chinese counterparts that exchange and cooperation between civil societies were increasing in number and intensity in order to promote mutual understanding.
Addressing the opening ceremony, Dai Junliang, Standing Member of CPC Beijing Municipal Committee, said it was the common goal of people all over the world to pursue a happy life despite their differences in history, culture, regime and the way to proceed.
No matter what's the mother tongue of a person, there was a common language for everyone, said Katalin Szuszky Varhegyine, Vice President of Hungary-China Friendship Association.
Ek Sam Ol, President of Cambodia-China Friendship Association, claimed that individual civilizations sparkle with prospects for exchanges and were enriched in reference to the other civilizations. Cambodian culture could easily be traced in many early Chinese documents, he said.
The Beijing International Forum on People-to-People Friendship was started in 2011, when 50 international organizations from 28 countries shared their experiences on the influence of public diplomacy in international exchanges and world city construction. Held biennially, it aims to promote cooperation among international associations for friendship and the world's sister cities.
From a Chinese viewpoint, it also serves as a platform for collecting constructive suggestions on developing Beijing into an international city.